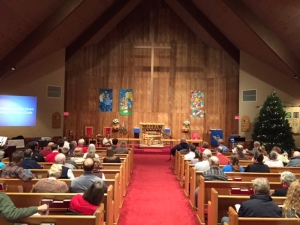 Worship Times
9 AM
11 AM
6:30 PM
Child Care is provided at 9 AM and 11 AM.
You can listen to Pastor John's most recent sermon here.
St. Michael is a community of God's people gathered together for worship, learning and service. On Sunday, we gather for worship at 9 AM, 11 AM and 6:30 PM.  Through our worship and study of scripture, we seek to grow in our relationship with God and with one another.
Strengthened by our worship and study, we move out into the world to serve, both as individuals and as a congregation. St. Michael sponsors Micah's Caring Initiative, a community-based ministry serving the needs of low-resource students and seniors, hosts a Community Thanksgiving Meal each year and partners with Rainbow Riders and Total Action for Progress to provide an Early Childhood Head Start program.
If you are planning to come to worship, sign up for our e-newsletter to find out what is happening this weekend: weekly e-newsletter sign up.
You can find directions, by clicking the button below.
Learn more about a Particular Season of the Church Year
Christmas and Advent
Check St. Michael's Christmas and Advent page for information on the season and worship times.
Holy Week and Easter
Check St. Michael's Holy Week and Easter Page for information on the season and worship times.
Information about St. Michael