St. Michael offers a number of different ministries with youth.
Vacation Bible School
takes place each June and offers a week of fun and learning for all ages. VBS begins on Sunday night and continues through Thursday. Each night starts with a meal at 6:15 PM and finishes by 8:15 PM.
What a wonderful week of Vacation Bible School. Over 80 youth and adults took to the sky this week to discover that everything is possible with God. It's the biggest week of Vacation Bible School ever at St. Michael.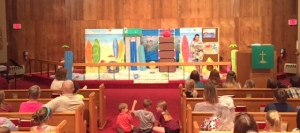 Lutherock Confirmation Camp
We had a wonderful week at Confirmation Camp with youth from three other churches. You can see some of the outdoor activities, learning and fun in the pictures on Facebook page.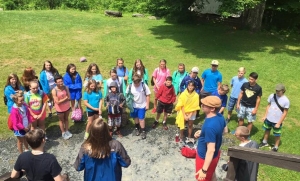 Helping Others Together
Children, youth and their families have the opportunity to share the gift of God's love through seasonal service projects like the Party with a Purpose, which prepares Shoe box Christmas gifts for children on the Pine Ridge Reservation, or through any of the Micah's Caring Initiative Ministries.
Filling Your Faith Toolbox for Youth and Families
Families of Faith Monthly Gathering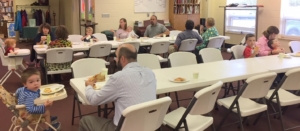 On the first Wednesday of the month, you are invited to the Families of Faith Gathering at St. Michael.  Come at 5:30 PM for dinner and learn a Bible story as a family.  After the Bible story, the kids spend time singing while the parents check in for conversation and support.  The event finishes about 6:45 PM.  To confirm the date for this month or for more information, please email Pastor John at: pastorjohn@stmlc.us
Youth and Family Lending Library
The Youth and Family Lending Library is available to everyone at St. Michael. There are storybooks for young children and books for parents. The library is located in the Fellowship Hall.
Age Appropriate Bibles are available for everyone. Please talk to Pastor John for more information
Scouting
Cub Scout Pack 158
for boys in 4th and 5th grades, meets every Thursday evening at 7:15-8:30PM.
http://pack158.us
Twitter: @Pack_158
Boy Scout Troop 158
for boys 10-17 years old, meets every Thursday evening at 7:15-8:30PM.
http://troop158.us
Twitter: @Troop158
Venturing Crew 158
for boys and girls 14-20 years old, meets every Thursday evening at 7:15-8:30PM.
http://crew158.us
Twitter: @Crew158