Choir Practice
The Choir practices on Sunday morning between services (9:50 AM) and has a seasonal "Choir Camp" to learn music for Christmas and Easter .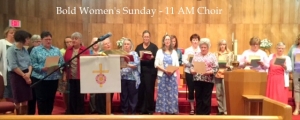 St. Michael's Music Ministry is lead by Patrice Yearwood and provides an opportunity for individuals to share their musical gifts to give glory to God and to support worship.
Throughout the year, there are seasonal and one-time choirs that form for particular events, instrumentalists who share their musical gifts and children's choirs that sing.
The St. Michael Lutheran Church Choir practices regularly and sings several times a month to help lead worship.  For more information about music ministry at St. Michael, please contact Patrice at: patricey@stmlc.us.