Community Thanksgiving Meal

The Annual Community Thanksgiving Meal involved over 200 people and served approximately 180 meals. Thank you to everyone who made it such a wonderful day. Here are a few pictures taken throughout the event.
Stories from the Pine Ridge Reservation
Each year, St. Michael joins with other congregations and community groups to provide Christmas Shoe Boxes to children on the Pine Ridge Reservation.
Here's a wonderful website that tells the story of Pine Ridge: http://www.pineridgesioux.com/.
If you are interested in providing a Christmas Shoe box for the children of the Pine Ridge Reservation, you can pick up an empty shoe box in the front hallway of the church during October and November.
Micah's Caring Initiative: Making a Difference in our Community

Micah's Caring Initiative is a grassroots organization that provides assistance to people in need in our community.
Micah's Backpack addresses food insecurity of youth in the local schools by sharing 6 weekend meals plus snacks delivered directly to the students in the schools. Micah's Backpack serves over 300 students in 10 Blacksburg schools.
Micah's Soup for Seniors provides a week of meals for seniors living on limited resources in the Warm Hearth community. This program serves approximately 90 seniors.
Micah's Closet gives a week's worth of new school clothes, pajamas, shoes, socks and a jacket to children in need.
Micah's Garden grows fresh produce for Micah's Caring Initiative programs. Half of the garden is used for the programs and the other half of the garden is rented out to other growers who either keep their produce or donate it to the programs.
To Our House Food Ministry
St. Michael is proud to be a part of the To Our House homeless ministry program that operates in the Montgomery County area. To Our House provides food and shelter for homeless men in the winter months. The program utilizes different churches throughout the area to provide shelter and food for the participants on a week to week basis. St. Michael provides food (breakfast, lunch, dinner) for two of the weeks each year.
Party with a Purpose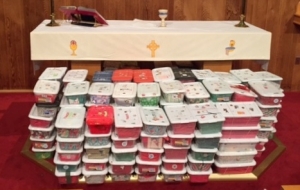 At the Party with a Purpose, volunteers prepared Christmas Shoe Boxes for shipping to children at the Pine Ridge Indian Reservation. Thank you to everyone who donated boxes and helped prepare them for shipping.
Justice and Mercy Fund
The Justice and Mercy Fund provides assistance for those in the community who need emergency assistance with critical bills.
School Supplies for Local Schools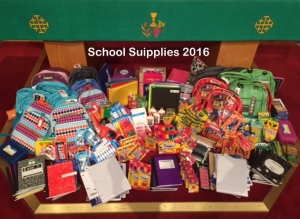 Each year, St. Michael collects school supplies for local elementary schools so that young people will have the tools they need for learning.
Meals for the Sick and Bereaved
Whenever someone is recovering from surgery or grieving the death of a loved one, the St. Michael family provides meals for the family.
Food Collection for Montgomery County Emergency Assistance Food Bank
Each month, St. Michael collects something different for the Emergency Assistance Food Bank. Check the bulletin or newsletter for information on what types of nonperishable food products are being collecting during the month. In addition, general nonperishable food donations are welcome at any time.
Junior High Servant Event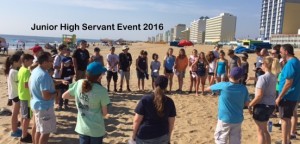 Each year students who have completed 6th, 7th and 8th grade are given the opportunity to go to Virginia Beach for a week for a mission trip focused on homelessness and food insecurity.